A Photographic Guide to Early Age Male Kitten Neutering Procedure


At the shelter where I work, male kittens over 800g and under 1kg (one kilogram) in bodyweight (usually 6-10 weeks of age - i.e. early age neutering) are desexed very quickly and atraumatically using the following neuter procedure. The whole neutering procedure, excluding anaesthesia induction and skin preparation, takes around 30 seconds


WARNING - IN THE INTERESTS OF PROVIDING YOU WITH COMPLETE AND DETAILED INFORMATION, THIS PAGE DOES CONTAIN EXPLICIT MEDICAL AND SURGICAL IMAGES THAT MAY DISTURB SENSITIVE READERS.



EARLY AGE KITTEN NEUTERING PROCEDURE STEP 1:
Surgical Preparation.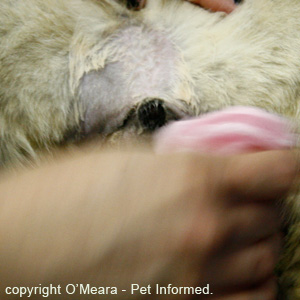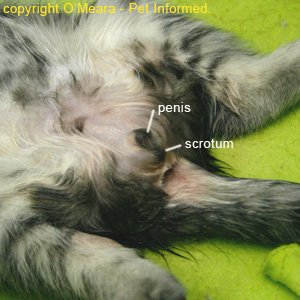 Image 1: The kitten's scrotal sac and groin regions are shaved free of hair (fur) and the bare skin is scrubbed in an antiseptic, antibacterial solution (chlorhexidine scrub and alcohol) prior to surgery. This pre-surgical skin preparation reduces the amount of bacterial contamination that is present on the skin prior to the first incision being made.

Picture 2: The scrubbed kitten scrotum ready for feline neutering surgery.



EARLY AGE KITTEN DESEXING INSTRUMENTS.



Photograph 3: Only a new 15 scalpel blade and a pair of mosquito hemostats (also called "mozzies" or artery forceps) is needed for this procedure. These instruments are placed in pink antibacterial chlorhexidine solution when not being used, to keep them free of bacterial contamination.

Image 4: The hemostats or artery forceps are clamps which are used to crush tissues (e.g. blood vessels) and occlude bleeding blood vessels. This crushing action causes the testicular blood vessels supplying the cat testes to spasm, such that they will not bleed when the testicle is torn away.

Only one set of instruments is used for each kitten surgery. This reduces the spread of blood-borne infectious diseases like FeLV (feline leukemia virus), FIA (feline infectious anaemia - Mycoplasma hemofelis) and FIV (feline immunodeficiency virus - feline AIDS) between kittens.



EARLY AGE KITTEN NEUTER PROCEDURE STEP 2:
The skin incisions.



Picture 5: Scalpel incisions are made in the scrotal skin directly over each testicle. Bleeding is very minimal.




EARLY AGE MALE KITTEN NEUTER PROCEDURE STEP 3:
Testicle exposure.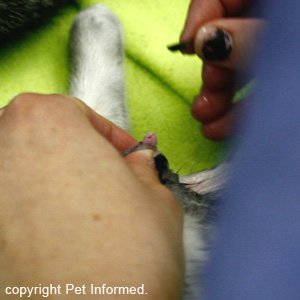 Images 6 and 7: After the skin has been incised with the scalpel, each side of the scrotal sac is squeezed so that the testicle (the pink ball seen in the images above) contained inside pops out, ready for removal.



EARLY AGE MALE KITTEN NEUTERING PROCEDURE STEP 4:
Clamping of the testicular blood supply.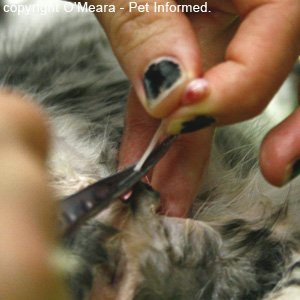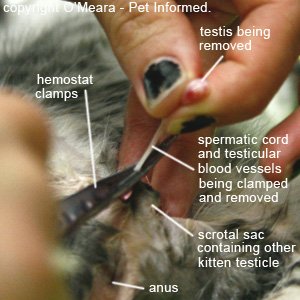 Pictures 8 and 9: The pink testicle is pulled upwards (away from the young kitten's scrotal sac) and hemostat clamps (mosquito hemostats) are placed/clamped around the testicular blood vessels and spermatic ducts. These clamps crush and traumatise the testicular blood vessels, causing them to spasm and occlude when the testicle is removed, thereby preventing excessive post-surgical bleeding.



EARLY AGE KITTEN NEUTER PROCEDURE STEP 5:
The testicle is torn away from the hemostats.
There is no real image for this, it happens so fast. Basically, the hemostat is left in place and the testicle is given a firm tug, severing the testicle's spermatic cord and blood vessel supplies. The hemostat is then released from the severed blood vessel stump (this stump is crushed and should not bleed).



THE END RESULT - COMPLETE FELINE NEUTERING.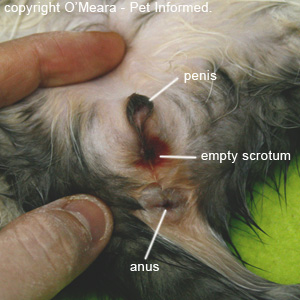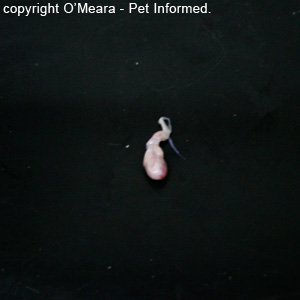 Photo 10: This is an image of the kitten's scrotum immediately after surgery. It is typical for a small amount of blood to ooze from the incision lines immediately after desexing surgery. This is seldom ever a life-threatening problem and only lasts a few minutes.

The only time that excessive, life-threatening bleeding would ever be a problem would be if the kitten had some sort of bleeding disorder that was undetected prior to surgery (e.g. rat sac poisoning, hemophilia, Hagemann-factor deficiency, platelet deficiency and so on) or if the kitten was greater than 1 kilogram in bodyweight. Cats greater than one kilo need to have their blood vessels tied off (see section 4 of our feline neutering page for illustrations) prior to removing the testes.

Image 11: The removed kitten testicle. Obviously, there are two of these removed at surgery.









To go from this early age feline neutering procedure page to the Pet Informed home page, click here.


To go from this early age male cat desexing page to our main feline neutering page, click here.





Copyright December 7, 2008, www.pet-informed-veterinary-advice-online.com.
All rights reserved, protected under Australian copyright. No images or graphics on this Pet Informed website may be used without written permission of their owner, Dr. Shauna O'Meara.


Please note that this surgical technique for <1 kilogram early age male kitten neutering is only what we use in our own shelter (it has been in use for more than the last five years). We do not seem to have encountered any problems with this technique. Other clinics and veterinarians may disagree with the technique illustrated on this page, in particular the failure to tie-off the testicular blood supply. We understand this and reiterate that it would never be used on a kitten greater than 1 kilogram or less than 800 grams in body weight. As I said before, we haven't encountered any problems with it as an early age neuter procedure.

To all the pet owners reading this page: this page is designed to give you a visual idea of what early age feline neutering procedures might look like. It is NOT an instructional manual for you to try this surgery at home on your own pets! Veterinary expertise and general anaesthesia is required to perform this desexing procedure - performing it on a conscious patient would be considered cruel and might well result in the death of your pet.