What To Expect: Consultation and Vaccination.
This page is designed to give you a head's up on what you can expect when you take your pet in for his or her consultation and vaccination appointment. The article contains many basic tips and tricks on getting the best from your time with your veterinarian. The page also discusses what you should expect from your vet during a consult. It contains handy hints on vaccinating, heartworming, worming and defleaing animals: which drugs are best; tips on worming, heartworming and defleaing animals of certain breeds and ages as well as great tips on how to reduce your expenses and save money. My vet tips are no great veterinary secret, just common sense, but writing them all down here in one place will hopefully be of great help to some. The topics are discussed in the following order:
1) What is entailed in a routine appointment:
A basic overview of what a routine consultation and vaccination entails and what you can expect to happen in a consult.

2) Tips on booking a veterinary appointment:
This section contains information on how to book an appointment; what to do if you have multiple animals or an additional medical issue to discuss with your vet (in addition to vaccination); what day is best to see the vet; what time of day is best; vaccinating for boarding kennels and tips on good booking etiquette.

3) Handy Tips for the waiting room:
This section contains heaps of great waiting room tips and tricks, including how to keep your pet relaxed and how to keep your pet safe while waiting.

4) The vaccination:
This section explains what happens in a vaccination; what your vet should examine on your pet; how an injectable and an intranasal vaccine is given; safe vaccine sites; how to reduce pain of vaccination and special breed and vaccine choice considerations.

5) Heartworm prevention, worming prevention, flea prevention and microchipping:
This section contains tonnes of great advice about worming, heartworming, defleaing and microchipping: e.g. which drugs are safest and most effective; safety considerations of flea, heartworm and worming meds; age, breed and species considerations; how to administer drugs and heaps of great tips on discount pet meds and saving money.

6) Consult Etiquette:
A handy guide to good consultation etiquette and top ways to make your vet love or loathe you.

7) Summary - My top 20 veterinary tips for routine vaccination and parasite-control consultations.


WARNING - IN THE INTERESTS OF PROVIDING YOU WITH COMPLETE AND DETAILED INFORMATION, THIS SITE DOES CONTAIN MEDICAL AND SURGICAL IMAGES THAT MAY DISTURB SOME READERS.





1) What is entailed in a routine vaccination appointment?

A routine vaccination appointment is a veterinary appointment where you take an otherwise healthy animal in to receive his vaccinations and get a thorough check-over. The vet will normally examine your pet from top to tail, examining his/her eyes, teeth, skin, lymph nodes, gums and body condition (overweight, underweight etc.). The vet will listen to your pet's heart and lungs and abdomen sounds, palpate your pet's abdomen and femoral pulses and take his/her temperature. Sometimes your vet will even take your pet's blood pressure (this is highly advisable in animals over 8 years old). If all checks out okay, then your vet will give your dog or cat an injectable and/or intranasal (up the nose) vaccine. You vet will also administer a 12-monthly heartworm injection if your pet is due for one and advise you on basic things like worming, heartworming, flea treatments, dental disease (he may even book you in for a dental scale and polish) and diet control (especially if your pet is overweight or underweight). If your pet needs his or her nails trimmed or anal glands expressed, then this can be done during a routine vaccination too.
A) How to book a veterinary vaccination consultation:
When booking a vaccination appointment, ring up your local clinic and ask to book a consultation for vaccination, worming and heartworm (this is the basic consult). Notify the receptionist if the animal is old (over 8 years) because some clinics will routinely check your animal's blood pressure as a routine part of the check-up.


B) Booking a vaccine appointment when your pet has additional problems:
Sometimes you will want to book a vaccine appointment and also get some other new problem (e.g. a lump, an ear infection, a weepy eye, a behavioural problem etc.) or long-term problem (e.g. hyperthyroidism review, diabetes management review, Cushing's disease recheck) checked out. When booking the appointment, tell the receptionist up front if there is other business to attend to because, in some clinics, there will be a policy of booking a double consult in order to deal with the two problems properly.

If there is no automatic double-booking policy for additional pet issues, I would very much advise you to go ahead and book a double appointment regardless. It is one of my absolute top veterinary tips. Think of the time it takes for a vet to ask you a full and in-depth history, do a proper physical examination of your pet, do some basic tests (skin scrapes, eye tests) ... and, on top of it all, vaccinate, worm and heartworm your pet. In particular, skin diseases, eye diseases and behavioural problems can take ages to discuss. You are simply not going to get a proper examination of the additional problem in a 10-15 minute consult. In large, competitive vet practices, vets are really under the hammer, time-wise. Book a double and your vet has the time to do a proper job! It sounds expensive, but having a proper veterinary examination this time might save you several, more expensive revisits down the track.


C) Booking a vaccine appointment when you have multiple pets:
If you have many pets in need of vaccination, including a litter of puppies, it is best that you get the receptionist to book a block of time appropriate to the number of animals that will be seen. Again, this will allow each animal to be examined properly and reduce the chances of things being missed (umbilical hernias, congenital defects, heart murmurs etc.).



D) What time of day is best to book an appointment:
Routine vaccines are quick and easy and can be done anytime of the day. If, however, you have extra problems to discuss with your veterinarian, you are best to book a morning appointment. The reasons:
1) Vets are freshest and better at problem solving the morning.
2) Your pet can be admitted for the day so that the vet can do additional tests.
3) Most veterinary labs will not pick up from clinics after a certain time of day. Getting any lab samples off early will save your pet's samples from sitting in the vet fridge overnight, ready for pick-up the next day (they will thus be less fresh).

If your pet is prone to vaccine reactions, it is best to book a morning appointment. That way, your pet can have the vaccine in the morning and then stay at the vet for the day to be monitored.
E) What day is best to book an appointment:
Again, routine vaccines are quick and easy and can be done any day a clinic is open.

Days I would avoid, where possible, are:
Fridays - On Fridays people bring in all of the sick animals that they have been watching get sicker all week because they don't want to get stuck without a vet over the weekend. The day is often hectic and over booked, with lots of 'walk-ins' (people without appointments) and emergencies and you may be waiting for a long time to see a vet.
Saturdays and Sundays - clinics that are open on a Saturday and/or Sunday are rarer these days, but do still occur. Obviously if you work weekdays, this could be your only chance at seeing a vet, so by all means make an appointment. Just remember: clinics put fewer veterinarians and nursing staff on during the weekends; the clinics are open for fewer hours than a typical weekday and weekend clinics often get a lot of extra people walking-in because their own clinics are closed. Similar to Friday, you could be waiting a long time to see a vet.
Mondays - Vets often get a rush of clients in on Mondays because they have been waiting all weekend for their vet to open. Many clients will not use emergency centres (due to the cost) or other, unfamiliar, weekend clinics, and so they will wait until Monday for their sick animal to finally get attention. Vets see lots of sick animals (which need more consult time and attention) and emergencies on a Monday. Again, those of you waiting for a routine vaccination could be left waiting a long time.

As far as the day itself goes, don't make an appointment for a vaccination on a day when you will be in a hurry for time. Always expect that things could run overtime in a vet clinic and that you might be kept waiting. Prime examples include:
You will be soon catching a plane flight.
You will be soon going to a business meeting.
You will need to catch a taxi to the vet and have it waiting by for your return.
Try to avoid making a routine veterinary appointment under these conditions.



F) Making an appointment for cattery and boarding kennel vaccinations:
The main thing to remember here is that vaccines take time to actually have an effect and protect your pet from disease. If your puppy has not had any vaccines before, then, depending on the vaccine-type used by your vet, s/he may need a minimum of two (possibly three) vaccine injections in order to achieve protection. Given that these might need to be administered a month apart, you may need to allow yourself at least 8-10 weeks leeway from the time of first vaccination, to the time of kenneling. Some of the newer puppy vaccines only require two injections or a single injection to achieve immunity and so the time may be less. The most important thing is to remember that time is needed and to discuss the time required with your vet.

If your dog or cat is an adult (has had the puppy vaccines), then make your booster vaccination appointment at least a week (preferably 2 weeks) before kenneling time (most injectable vaccine boosters need a week to reach optimum protective effect). If you can do it well in advance of this, then you will give your pet plenty of time to recover from the vaccine and any vaccine side effects (e.g. watery noses, mild post-vaccinal illness) before he or she has to enter a stressful kennel environment.


G) If finances are a potential issue, get an estimate of costs while booking the appointment:
There's no shame at all in being money-cautious. When you start adding the costs of consultation, vaccination, worming and heartworming (not to mention the costs of dog food, flea medications ... the list goes on) the costs can be significant and unexpected. Most receptionists have a basic list of vet charges at their disposal so that they can provide you with an estimate of fees. Knowing this in advance can make it easier for you to budget for your pet's treatment and ensure that you do bring the right amount of money.



H) Make sure you actually do book an appointment:
Don't walk in off the street and demand an appointment. Vet clinics are generally over-booked and will not be able to see extra clients for routine things. The only walk-ins most vets readily accept are emergencies. Demanding a vaccine because you are going away tomorrow; catching a plane; putting your pet into kennels ... is not an emergency and getting angry or abusive will not get you what you want.





A) Look before you enter:
Peep through the door to see who or what is inside the waiting room before entering. Dogs that are running around free or animals that have escaped their cages might be a risk to your pet and/or might escape through the door the second you open it. Escaping animals can run onto roads or get lost.



B) Keep your dog on a lead and cats, birds, ferrets and rabbits in a carrier:
This is common sense, but you'd be amazed how many people like to let their pets loose in the waiting room. Loose pets can get into fights, get predated by larger pets (e.g. a loose cat might find itself eaten by a large dog) or attack and bite other people in the waiting room (e.g. large dogs). If any of these occurred, you could be liable and potentially looking at a lawsuit or paying a lot of vet bills for someone's injured animal.



C) Don't walk your dog or cat up to other people's pets to let them meet and greet:
Similar to the off-lead situation, if you let two unfamiliar animals come into close contact with each other, this can result in fights, injuries and even the death of an animal. Humans trying to pull warring animals apart can be badly savaged too. Just don't do it. Your mastiff might be the nicest, most cat-lovin' canine around, but this does not mean that he will get on with every cat or that every cat will get on with him.

In addition, putting two unfamiliar animals in close proximity can lead to spread of diseases. Young, unvaccinated pups and kittens, in particular, are at risk of disease should an older animal (a potential carrier of infection) sniff and lick them.

On top of this, just remember that some people are very afraid of medium to large breed dogs. It is an inbuilt phobia in some and conjures up images of everything from Cujo to Jaws! Help others to feel comfortable and keep your pet under your control.



D) Please don't let your dog walk around and pee on everything:
You might think that it's cute and acceptable to let your dog wee and poop on the floor, but I can assure you, clinics don't. Absolutely, accidents do happen: a lot of dogs go to the toilet and/or vomit in vet clinics (it's all of those lovely doggy smells) and we are happy to clean up after them. Please, just don't let them wander freely about the waiting room cocking their leg on everything. It drives us balmy (cos then every other male dog comes along and wees in the same spot!) Keep them on a lead and away from vertical surfaces and the problem won't occur.

In addition, if your pet does happen to have an accident, please don't be embarrassed about it and keep it to yourself. If there is feces, vomit or urine around, please tell someone on the clinic staff so they can clean it up. Urine, stools and vomit has the potential to spread disease and, in addition to this, vet clinics are potentially liable if someone slips over and cracks their skull on the floor.



E) Keep unvaccinated puppies and kittens out of contact with vet clinic surfaces:
Veterinary clinics see sick animals all the time. It only stands to reason that floors, weighing scales and table-tops in veterinary clinics might have been contaminated by nasty viruses and bacteria including parvovirus and kennel cough. The same applies to veterinary car parks, gardens and lawns. Placing an unvaccinated or not-fully vaccinated puppy or kitten in contact with these surfaces might expose your unprotected pet to these contaminants. My advice is to keep puppies and kittens off the floor (in your lap or in a pet carrier) and to have your vet or receptionist coat the weighing scales and consult table in fresh newspaper before your pet is place upon them.


For owners of large breed puppies (who may not be able to keep them off the floor), I would advise using the cat entry of a vet clinic (get permission from the receptionist first). Most purpose-built vet clinics have a cat side and a dog side. The cat side is for cats only and is less likely to have been contaminated with canine infectious disease particles than the dog side. Alternatively, you could get a vet that does home visits to do vaccinations within your home until your puppy is fully protected.



F)Weigh your animal when you come in the door:
Most clinics have a set of floor scales to put animals on. Getting a weight is valuable for you (you can keep a record of your pet's weight and health) and for your vet. Most wormers and parasite medications are dosed according to weight.

Only weigh cats outside of their carrier if no dogs are around. With cat weights, many clinics have a set of cat scales in each consult room which you can use. If they don't, you can weigh the cat inside the cage on the main scales and, once in consultation, take the cat-free cage out to be weighed.

Weight of cat/cage minus weight of cage = weight of cat.

Puppies and kittens that are not fully vaccinated should be placed upon scales that are covered in fresh newspaper. This will protect them from any infectious canine and feline disease which might have been left on the scales by another pet.



G) Always expect the possibility of vet clinics running into overtime.
Emergencies and unexpected events happen in veterinary clinics every day. You may be kept waiting for hours because a dog dying from snakebite came in or a poisoned animal came in. Be patient: if your pet was the one dying, the vets would do the same for you and make others wait.


Ways to be prepared for a possible long wait:
Bring a book.
Bring some work with you. Laptops, blackberries and mobile phones are fine in most clinics and should not interfere with medical equipment.
Don't book an appointment for a time when you are in a hurry.
If you can avoid it, don't bring small children to the clinic with you - little kids are the first to get bored in a vet clinic. Waiting simply aint their style! Generally, once they get bored, most young children start to wander around and touch vet instruments; play on the vet scales and pull dog toys off their racks. Between wrangling a dog and several kiddies, your poor nerves are sure to get frazzled.



H) Making your pet more relaxed in the waiting room.
Some animals become really anxious in the waiting room and, by the time you get in to see the vet, they are dribbling, shivering, over excited messes, with high heart-rates and high temperatures. There is often not much that you can do to help this, but some handy hints for keeping your pet relaxed might include:
1) Waiting outside with your pet - after letting the receptionist know that you have arrived and filling out the necessary forms, you can take your pet outside to wait. Most pets associate outside with not being at the vet and relax considerably. Often, having two owners at the vet visit can be useful: one can wait outside with the dog or cat and the other can sit inside, waiting to be called.
2) Going to vet clinics that have a dog and a cat side - cats hate being in waiting rooms with dogs and, for their part, dogs get very excited in the presence of cats. Going to a clinic where the waiting rooms are separate can help this a lot.
3) Having treats and toys on hand - treats and toys can distract a pet from being anxious. Be aware, however, that use of such rewards, although distracting, can actually reinforce the fear behavior for the future. Animals think that you are giving them food rewards for being nervous! This makes the nervous clinic behaviour more ingrained. I would avoid the use of distraction treats for this reason.
4) Bach flower remedies? - Some clients use holistic Bach flower remedies (e.g. rescue remedy) to calm their dogs and cats. Response may be variable or even negligible, but it certainly won't hurt to try some of this natural remedy for an anxious dog.


I) Dogs and cats prone to vaccine reactions.
If your pet is prone to allergic vaccine reactions, then he or she will need an antihistamine injection around 15 minutes prior to vaccination. Let the receptionist know well in advance, so that someone can come and administer one.
4. What to expect from your consult - the vaccination.
This section discusses the checks that your vet should do; correct vaccination procedures and tips on administering vaccines quickly and painlessly.


A) The table or the floor?:
When your vet admits you into the consult room, your pet will be examined on either the floor or a consult table (which should be cleaned of all hair and soiling and covered in a clean, non-slip cloth). Where possible, the table is always preferred because it allows for a much more thorough examination of an animal and, it seems to even subdue some animals (an animal that is boisterous and unmanageable on the floor will often freeze and be perfectly manageable on the table). All small to medium-sized animals are examined on a consult table.
The main time animals are examined on the floor is when they are very large (too large to go onto the table) or excessively anxious (some animals freak out on the table, but are far more docile and comfortable on the floor).
B) Patient examination:
Your vet should examine your pet thoroughly: it is not acceptable to just glance at an animal and give it a needle without checking it over (especially its temperature).

The vet needs to examine your pet's:
gums - looking at gum color, refill time (how soon the colour returns to the gum when it is pressed) and examining for any signs of gum infection (gingivitis) or masses.
teeth - looking for teeth fractures, retained baby-teeth and signs of infection and plaque accumulation (a dental scale and polish may be needed).
eyes - looking for any sign of disease, jaundice, early cataracts etc.
skin - looking for signs of mites, fleas, allergies, ear infections (the vet should even look down the ear canals - especially in regions with lots of grass seeds), fur matting (especially in long-coated cats), lumps and hernias (e.g. umbilical hernias of pups).
nose - looking for any discharges, lumps and pigment changes.
lymph nodes - all lymph nodes should be palpated and oversized ones noted and rechecked (large nodes can be a sign of infection or inflammation somewhere or even a sign of cancer).
heart - the vet needs to check the heart for heart rate, heart arrhythmias and heart murmurs (in puppies heart murmurs can be a serious sign of congenital heart defects).
lungs - the vet needs to check the respiration rate (speed of breathing) and listen to the lungs for dull patches, wheezing (e.g. feline asthma, allergies) and crackles (fluid in the lungs).
abdomen - the vet should feel the abdomen checking for internal masses, fluid, signs of constipation, kidney size and regularity (especially in older cats), and liver size.
pulses - the strength and evenness and regularity of femoral pulses needs to be felt and compared with the heart rate (pulse rate should equal heart rate).
temperature - the dog or cat temperature should be between 37.5C and 39C (though temperatures up to 39.5C or more may be acceptable in excited dogs or dogs that have walked to the clinic). Dogs with high or low temperatures should not be vaccinated.
testicles - all male pups should have their testicles palpated during their initial puppy vaccines to ensure that both testicles descend normally and on time. Retained testicles (cryptorchidism) are a health problem and potentially hereditary.
body condition - your vet should assess your dog or cat's weight and condition and let you know if your pet is too thin or overweight. Do not get offended if a vet tells you that your pet is fat or skinny. This is part of a vet's job and correcting the problem is essential to your friend's health.


Extra checks:
anal glands - in dogs prone to anal gland infections and impactions, the vet should put a glove on and examine the anal glands, expressing them as needed.
prostate checks - in older intact or neutered male dogs the vet should don a glove and perform a rectal exam, checking for prostate size, symmetry and the presence of pain. Rectal polyps and masses may also be found in this way.
blood pressure - all older (>8 years) cats and dogs should have their blood pressure checked.
thyroid palpation - older cats are prone to overactive thyroid disease (hyperthyroidism) and sometimes enlarged thyroids can be detected on palpation of the neck.


C) Choice of vaccine?:
The choice of vaccine is not usually a choice you are given. Generally, vets have a small range of vaccines that they typically administer to all normal dogs and cats. The routine dog brands cover parvovirus, adenovirus (canine infectious hepatitis), distemper, parainfluenza and Bordetella bronchiseptica. The routine cat vaccine brands cover feline herpes virus (rhinotracheitis), feline calicivirus and feline panleukopenia (also termed feline distemper or feline parvo) and sometimes feline chlamydia. Vets choose particular brands based on many considerations, including: cost of vaccine, benefits for pets (e.g. low-virulence strains of vaccine, three-yearly vaccines) and vaccine company promotions. Generally, the brand of vaccine is not of real concern to you as an owner because most vaccines are very effective at preventing disease in dogs and cats.

There are situations, however, where choice of vaccine type or brand is important and you need to discuss the matter of vaccine choice more thoroughly with your vet. Some of these include:
Your breed of dog or cat is sensitive to certain vaccine strains - for example, Weimaraners are sensitive to certain distemper vaccines strains (see distemper page for details).
Your dog is pregnant and needs a killed vaccine - see our vaccinating the pregnant bitch page.
Your dog is prone to vaccine reactions and a different vaccine may need to be considered.
There has been an outbreak of a particular strain of virus in your area - certain vaccine strains are less effective at protecting against certain strains of disease-causing organisms. For example, disease outbreaks caused by the CPV-2b strain of parvo virus may not be as well-protected-against by regular vaccines as they are by vaccines containing the CPV-2b parvo strain.
You require additional vaccine disease cover - obviously, if you want additional protection against diseases like feline leukemia (FeLV), feline aids (FIV or feline immunodeficiency virus), giardia, rabies, leptospirosis, lyme disease, feline and canine coronavirus, you will need to discuss the additional vaccines with your vet.
You require rapid protection - certain new potentiated vaccines and intranasal vaccines allow for protection to be achieved with a single vaccination vaccine schedule. This can allow full cover to be achieved (depending on the age of the dog) within a week of vaccine administration.
You prefer 3-yearly parvo, distemper and adenovirus protection - certain new vaccines allow for three yearly vaccine administration.


D) Site of vaccination:


Dogs:
Most vaccines in dogs are administered in the scruff of the neck, above the shoulder blades. Vets must be cautious doing this in breeds with possible pilonidal sinuses such as Rhodesian Ridgebacks (see our vaccine side effects page for info).
Rabies vaccinations are usually given in the right hind leg of animals, although the reason for this is to prevent a cat-associated problem (feline vaccine associated sarcomas and fibrosarcomas).

Cats:
In cats, vaccines are capable of causing cancers called feline vaccination associated fibrosarcomas. Because the scruff of the neck is a difficult region to remove these invasive cancers from surgically, vaccines in cats are normally given in three sites:
1) Rabies vaccine - right hind leg.
2) Feline leukemia vaccine - left hind leg.
3) Other vaccines - right or left thorax (over the rib cage).

The site of vaccination in the cat should be noted and vaccines only given in these same sites in future. This allows for vets and owners to monitor a site for the formation of cancer. See our vaccine side effects page for info on feline vaccine sarcomas.

Intranasal vaccines:
Obviously, as the name suggests, intranasal vaccines are administered up the nostrils of the animal. This is done using a special applicator - see image. For more on intranasal vaccines, see our how vaccines work page.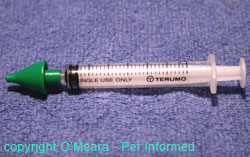 E) Giving an injectable vaccine:
The vet will tent up the skin of the region to be vaccinated, push the needle through the skin and, after drawing back on the needle to find no blood in the syringe, inject the solution. After this, the vet will usually rub the area to distribute the solution around and reduce the pain.


There are ways to make this less painful for the puppy or kitten:
1) The vet should warm the solution before injection - generally the vet will roll the syringe in his hands to warm it before injection.
2) The vet should use a small needle.
3) The owner can feed the puppy or kitten as the needle is being given - if distracted in this way, a lot of pups and kitties will not even notice that a needle has been given.


Important tip, live cat flu injectable vaccines can cause signs of catflu if inadvertently aerosolized and inhaled. The vet should make up the vaccine and put it into a syringe in a separate room to your cat.



F) Giving an intranasal vaccine:
Intranasal vaccines are prepared by mixing an intranasal vaccine powder in a liquid diluent. This solution is drawn into a syringe and given up the pup or kitten's nose.

Kittens and pups vaccinated in this way do not like it. They often struggle vigorously and will sneeze and cough after administration. Do not be alarmed to see a big splash of vaccine fluid hit the floor. This is typical - the vaccine only needs to contact the lining of the airways to be effective: far more is given up the nose than is actually needed. So don't fret: vaccine fluid hitting the floor is not a sign that you have just 'done your dough' so to speak.

Another thing to note with intranasal vaccines is that they often cause mild signs of upper respiratory disease (coughing, sneezing, nasal discharge etc.) for a few days after administration. See our vaccine side effects page for details.





5. What to expect from your consult - worming, heartworming, microchipping, flea treatment and added extras.
This section discusses the checks that your vet should do prior to giving heartworm injections or tablets, as well as microchipping and flea treatments. This section also provides secret veterinary hints on obtaining cheap or discount worming medications, flea treatments and veterinary diets.


A) Heartworm injections: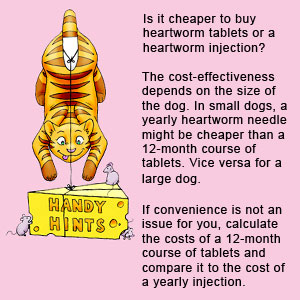 The use of monthly or even daily heartworm tablets is still popular, but has to some extent been replaced by yearly heartworm injections (e.g. Proheart SR12). This is because of convenience - people can easily remember to get their animal's yearly heartworm shots when it happens during the same consultation as their pet's other immunizations.

Hints and tips on heartworm injections:


Don't start heartworm injections until your pet has reached adult size.
Heartworm injections are a deposit of a very slow-release drug. The solution comes in a form whereby, once injected, tiny beads release heartworm killing chemicals from under the skin for a year, thereby preventing the animal from getting heartworm infection for that year. The size of the drug deposit required to last out the year is directly related to the size of the animal. The drug amount is administered based on weight.

If your dog is not fully grown when the needle is given (the drug will be dosed to your pet's current size, not his future size), it won't last the full 12 months. During the next 12 months, should your dog continue to grow in weight, the deposit of drug in the skin will not be large enough and the effect of the drug will wear off prematurely. This is the main reason why we don't advocate giving yearly heartworm injections to dogs under 12 months. I would be cautious giving it to large breed dogs (Newfoundlands, Great Danes etc) up until 18 months, because these guys can keep growing in size even then.

Author's update (22/5/09): The company that produces the heartworm 12-monthly injection is now advocating the use of the product in puppies from 12 weeks of age. The drug is dosed to the animal's bodyweight at 12 weeks and from then on the animal receives the injection 6-monthly (the reduced duration of drug action accounts for the rapid increase in the size of the dog as it grows) until it achieves adult size, after which it will receive the needle yearly from then on.

Have your vet inject the heartworm product into a slightly different site to the vaccine.
By injecting the heartworm product into a different site, this will reduce the volume and variety of drugs given at any one site. This will reduce the risk of severe inflammatory reactions occurring and the risk of abscesses forming at the injection site. Also, if there is a problem with one of the products (e.g. your dog gets a nasty local reaction to one of the drugs), you will know from the site, which drug (heartworm or vaccine) was the culprit.


B) Monthly Heartworm tablets - e.g. Heartgard, Sentinel.
If your dog is not yet at full size or he is not tolerant of the injectable heartworm medications, monthly heartworm tablets are a great alternative. Generally very safe, these tablets can be given orally in the food (some of them are available as great chewable products that dogs love to eat) once a month to ensure protection against heartworm. Some of these products have an added bonus in that they have been combined with additional chemicals which kill fleas and intestinal worms, thereby adding to overall parasite control.

Most of the heartworm medications can be started at 6 weeks of age (some can be started younger than this, but 6 weeks is a good, easy-to-remember guide - the time of first vaccination).

Many vet clinics provide new owners with puppy packs and kitten packs. These are great because they give you some starting doses of heartwormer, spot-on flea treatments, and samples of certain diets, to get your protection off to a good start. They also don't cost anything, so are a nice bonus.

One tip: when buying monthly heartworm tablets or worming tablets or flea treatments (basically any long term treatment that is dosed based on weight) only buy a maximum of 2-3 months-worth at a time while your pup or kitten is still growing. Each 2 months, take your puppy into the vet and weigh him or her and then buy the next lot of tablets or spot-ons based on this new weight. Why? To save you money and ensure that your pet gets the correct dose of medication. There is no point buying a 6-month packet of Heartgard 0-11kg tablets if your puppy is going to be over 11 kg in 3 months!



C) Monthly heartworm spot-ons - e.g. Advantage Duo, Revolution.
If your dog is not yet at full size or he is not tolerant of the injectable heartworm medications, monthly heartworm spot-ons are a great alternative. They are really really good for cats and other animals that hate being pilled and won't eat chewable tablets. Some of these products have an added bonus in that they have been combined with additional chemicals which kill fleas, mites and intestinal worms, thereby adding to overall parasite control.

Most of these heartworm spot-on medicines can be started at 6 weeks of age (some can be started younger than this and a few require animals to be slightly older, but 6 weeks is a good, easy-to-remember guide - around the time of first vaccination).

One tip: the same as with the heartworm tablets, when buying monthly heartworm spot-ons only buy a maximum of 2-3 months-worth at a time while your pup or kitten is still growing. Each 2 months, take your puppy into the vet and weigh him or her and then buy the next lot of spot-ons based on this new weight.


D) Important breed concerns:
Be cautious using tablets and spot-ons containing ivermectin or ivermectin-related compounds (moxydectin, milbemycin, selamectin etc.) in collies; collie-crosses and Australian shepherd breeds. Some of these animals are highly sensitive to these drugs and can develop severe and bizarre neurological signs when given them. Deaths have been recorded in the extra-sensitive animals.



E) Daily heartworm tablets (diethylcarbamazine citrate or DEC) - Decaflea, Dimmitrol, Dirozine, Exelpet heartworm products, Filar, Fido's Dec-Tab, Filaribits, Troy heartworm products:
There are a large range of supermarket-brand heartwormers available on the market, which prevent heartworm infection using a daily dose of a chemical called DEC (diethylcarbamazine citrate). These products are cheap, easily available and perfectly effective against heartworm provided they are used as instructed.


A few really important pointers on the use of DEC-based products:
1) you must get your animal heartworm tested before using them - if DEC is given to a heartworm positive animal, it can trigger massive, rapid worm kills in the body which can result in severe anaphylactic reaction and death of your pet.
2) you need to have an accurate weight on your pet - it is important to dose DEC according to the correct weight of your animal.
3) These are dog products only.
4) You must give the tablet every day - the drug does not last long in the system and forgetting can result in heartworm disease infecting your animal.


F) Heartworm testing:
If your dog (or cat) has not had any heartworm coverage for 6 months or more, it is important that you get him or her tested before starting him on any heart worm prophylactic medications. The test is a simple blood test and vets can usually run the test in-house. If the test comes up negative, your animal can start on heartworm medications. If the test comes up positive, additional tests will need to be run to confirm or refute this and medication for heartworm administered as is appropriate.


G) Worming tablets, syrups and spot-ons:
In addition to heart worm, animals need to be protected routinely against intestinal worms. These include the following worms (I have put the scientific names here too because most allwormer packets have the scientific names of the worms on them):
Hookworms (Uncinaria species and Ancylostoma species).
Roundworms (Toxocara species, Toxascaris).
Tapeworms (Dipylidium caninum and Taenia species).
Hydatid tapeworms (Echinococcus species).
Whipworms (Trichuris species).


Some of the spot-ons and tablets that treat animals for heart worms and/or fleas do have additional chemicals in them that treat some worms. It is rare, however, for these combined products to treat all of the worms needed. Some will treat heart worms, round worms, hook worms, and whipworms, but miss out on fleas and tapeworms. Some will treat heart worms and fleas and no intestinal worms. Some might treat just one or two types of intestinal worms, in addition to heartworms and fleas, but not all.


Basically, when selecting products, check the labels and make sure that you are covering all you need to - the products tell you on the pack which parasites they kill. Your parasite protection needs to cover all of the worms mentioned in the above list as well as fleas and heartworms (scientific name, Dirofilaria immitis). You might need to make use of two or three separate products to get them all. This is not unusual.

All-wormers: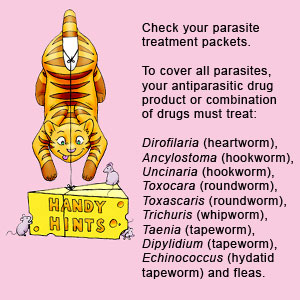 Products that are termed All-wormers generally only treat all intestinal worms, not heartworms. Just be careful of this. If it says all-wormer, don't take that to mean that heartworms are necessarily going to be covered. All-wormers are a good choice, though, to be sure that you do kill all of the intestinal worms that you need to kill.

Products designed to kill intestinal worms are available at vet clinics, supermarkets and pet stores. They generally come as syrups (easier to give to puppies and cats), pastes or tablets and occasionally as spot-ons. They generally contain one or several of a number of anthelminthec products, including: praziquantel (a tapeworm killer), pyrantel, febantel, piperazine, oxantel and/or levamisole.


Most all-wormers can be administered to pregnant bitches and queens safely.


If your animal is prone to vomiting in the car (car sickness), get your vet to give you a wormer to give to your pet when you get home. If the vet gives the pet its pill in the consult and it vomits in the car ... well, that's one tablet lost.


When should worming start?:
Worming starts at 2 weeks of age because pups are born with hook worms and round worms (they get worms from their mother across the placenta and via the milk). The first couple of wormings probably only need to be a syrup that does roundworms and hookworms (e.g. Troy's Worm Ban syrup). From 6-weeks of age onwards, I recommend giving puppies and dogs products that kill all worm types (all-wormers).

The usual intestinal worming schedule in puppies and kittens is as follows:
Worm at 2 weeks, 4 weeks, 6 weeks, 8 weeks, 10 weeks and 12 weeks. (i.e. 2-weekly until 12 weeks old).
Then worm at 16 weeks, 20 weeks and 24 weeks (monthly until 6 months old).
Then continue worming for life, every 3 months.

Obviously, if you are using a monthly heartworm, flea etc. combination-type spot-on or tablet product, you will be left worming monthly for life.

Some important points on worming:
Wormers need to be given to all animals in the family, not just one. A lot of parasites can spread pet to pet, so all should be dewormed at the same time. Wormers must be given according to the weight of the animal - you are best to weigh each animal that you give the wormer to (to ensure correct dosage) or, if this is not possible, over-estimate the weight of the animal (you are best to give a slightly high dose than to under dose).


An important tip on hydatids (hydatid tapeworms: Echinococcus granulosus and E. multilocularis):
These worms are really dangerous to humans. If you feed your dog offal or you live on a farm (when dogs can access wild animal and livestock carcasses) or you live in an endemic hydatid region, you need to give your dog a tapewormer every 6 weeks for life.


H) Flea prevention:
Most flea treatments available at veterinary clinics these days come in the form of a spot-on: a dob of liquid placed on the back of the neck in the fur (e.g. Revolution, Frontline, Advantage) or a tablet (Program, Sentinel). These treatments are almost always given monthly.


The only time that you might consider giving some of these flea preventatives more frequently (e.g. Frontline and Advantage can be given 2-weekly) is in times of severe, recurrent flea infestation and in animals with severe flea allergy dermatitis (where a single flea bite could set the itching off for months). I would only use the flea-only products more frequently, not the combination products (products that treat fleas plus heartworm and other worms). The combination products should be used according to the directions on the label.


Flea preventatives come in two main forms: treatments that kill adult fleas and treatments that inhibit the formation and hatching of flea eggs, thus breaking the life cycle.


Flea treatments that kill adult fleas:
Monthly spot-on products such as Frontline, Advantage and Revolution generally work by killing adult fleas (some also distribute into the environment and kill larval fleas in carpets and bedding too). Common active ingredients include: imidacloprid, selamectin and fipronil.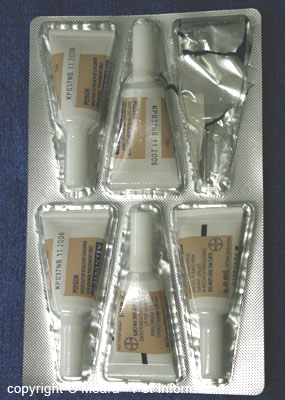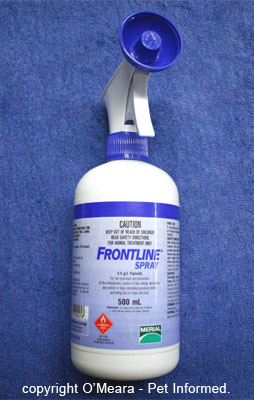 Capstar (nitenpyram) - this is a fast-acting flea killer that is brilliant for rapidly killing large flea burdens. It is inexpensive and non-toxic to pets over 4 weeks old and most shelters and many vet clinics use it to kill large flea burdens on rescue animals. In my opinion, this is one of the best flea treatments around for fast kill of fleas in situations of high flea numbers, however, it needs to be backed up with a longer lasting (monthly) product because the effect only lasts up to 24 hours.


Flea treatments that make flea eggs non-viable:
There are a number of monthly products such as Program and Sentinel and Revolution that act by inhibiting flea egg development and stopping eggs from hatching. The active ingredient is lufenuron or selamectin. These are good products for long-term flea prevention programs because they break the flea life cycle. Because they do not kill adult fleas (Revolution is the exception), these products are best used in conjunction with products that do kill adult fleas to give more rapid, all-round protection.


Important Hint - be aware of the age of pet when giving flea products:
The different companies have different age limits, after which their products have been proven safe to use. These are printed on the packets and should be read and followed. I have put the age thresholds of some of the more commonly-used products here:
Frontline: Safe from 12 weeks (3 months) of age.
Sentinel: can be used in puppies from 2 weeks.
Revolution: safe from 6 weeks.
Advantage: is safe before 6 weeks, but the product advises you to treat the mother for fleas, not the nursing kittens and puppies, because the product will distribute to them anyway.
Advantage Duo: safe from 7 weeks.
Capstar: safe from 4 weeks.


Some important pointers on defleaing:
Flea treatments need to be given to all animals in the family, not just one. A lot of parasites can spread pet to pet, so all should be defleaed at the same time. Flea treatments must be given according to the weight of the animal - you are best to weigh each animal that you give the product to (to ensure correct dosage) or, if this is not possible, over-estimate the weight of the animal (you are best to give a slightly high dose than to under dose). Environmental control is also important because fleas spend some of their life cycle off the pet: flea bombing of rooms, regular vacuuming and steam-cleaning of carpet and pet bedding can help to reduce flea numbers in the environment.

Toxicity of flea products in cats:
Be aware that many flea products are toxic to cats. For example, Advantage Duo is not safe for cats, whereas Advantage for Dogs and Cats is. Many of the flea shampoos, flea rinses and flea collars contain products that are very toxic to cats - you must read the instructions clearly.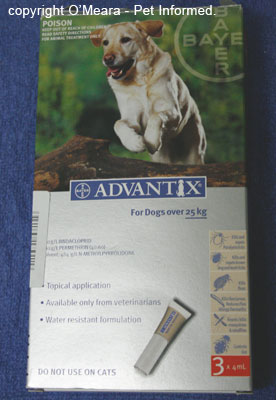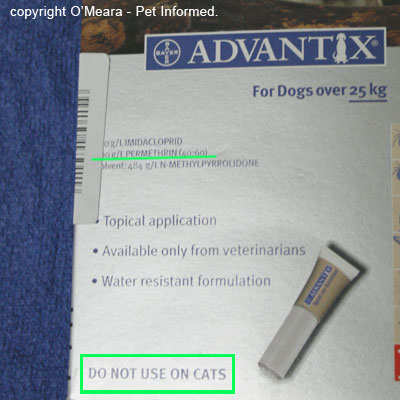 Other flea treatments?:
I am a huge fan of the veterinary-type spot-ons and tablets for killing fleas. This is not just because I am a vet, but actually because they are the better long-term, minimum application products. In my experience, flea collars, flea powders and flea washes do not provide effective flea control (this is not because of the products per se, but mostly because their duration of action is too short to provide a decent duration of control and most owners do not apply them often enough to maintain effect). For example: to provide decent flea prevention using a shampoo, you would have to wash your dog or cat every few days. Most owners won't do this: the products smell chemically and most people feel uneasy at dipping their hands and their pets into insecticide too regularly.

One vet tip to save you money: when buying monthly flea spot-ons and/or tablets, only buy a maximum of 2-3 months-worth at a time while your pup or kitten is still growing. Each 2 months, take your puppy or kitten into the vet and weigh him or her and then buy the next lot of spot-ons based on this new weight.

Another cool vet tip to save you money: Most liquid spot-ons have a set concentration of product within them, but are sold as different spot-on sizes based on a weight-range of the pet that they are marketed towards. Large dogs have large spot-ons and small dogs have small spot-ons. The reality is, however, that there can often be little cost difference between the price of a 6-pack of large dog spot-ons versus the price of a 6-pack of small dog spot-ons. If you have a number of very small dogs, it is possible to buy the large spot-ons and split a single spot-on between all of the smaller dogs. Thus, a single large spot-on might do the task of three smaller spot-ons, thereby saving you the cost of more frequent spot-on purchases. Phew! Working out the right dosages needed for each dog should be guided by your vet, but it's easy to do.
Note - you can not do this with tablets. The drug within a tablet is not uniformly distributed throughout the tablet, as it is with a liquid preparation. With a tablet, all of the drug might be up one side and this could lead to overdosing of one dog and under dosing of another, should you try to split tablets.



I) Microchipping:
Microchips are metal implants containing data about your ownership of your pet: who owns the pet, contact details, addresses, that sort of thing. Microchips are essential these days because all shelters and pounds and veterinary clinics are usually equipped with scanners to detect a pet's chip and, should your pet go missing and get handed in to a pet centre, they can usually find your details and notify you. Microchips allow lost and stolen pets to be reunited with their owners more quickly. They also aid in legal disputes over pet ownership: if two people are battling over custody of a cat or dog, the person who the chip is made out to is the rightful owner.

Collars are not enough. Collars fall off necks or are removed from necks; tags fall off collars and writing on collars gets worn away with time.


Where are microchips placed:
Microchips are placed under the skin of the dorsal neck, somewhere between the shoulder blades. They can migrate, however, and end up down the front legs or alongside the rib cage. Vets must remember to scan all of the animal for this reason.


When should microchips be administered?:
They should, ideally, be placed as early as possible (there is no minimum age limit). The sooner the chip is placed, the sooner your pet definitively belongs to you and can find his way home if he gets lost. One thing to remember, however, is that microchipping needles are large and they can really hurt to go in if done on a very young or conscious puppy. The pain and fear evoked in a young puppy of kitten from a painful needle experience can stay with that puppy for life (developing pups learn many of their fear-associations between 6-14 weeks of age - the time when they have their vaccines and microchips) making all future vet visits unpleasurable and traumatic for yourself and your pet. My preference, where possible, is to hold off on microchipping until the time of desexing - the chip can be given painlessly while your pet is under anaesthesia. In the end, it's your choice: your choice of timing obviously depends on how likely it is that your pet may be stolen or lost in the months before desexing.


Microchipping and FIV-vaccination of cats:
In order for your pet cat to receive an FIV vaccine, your pet needs to receive a microchip. The reason for this is, when cat goes missing and gets handed into a shelter, he or she will be automatically tested for FIV to see if he or she is worth rehoming. If a cat tests FIV positive, the cat will be euthanased. In the case of FIV vaccinations, cats that have been vaccinated with FIV will test positive on shelter FIV tests (they are not actually positive, it is a result that comes after receiving a vaccine!). Thus, microchips are placed in FIV-vaccinated cats so that shelters can tell that the cat is owned and that it might not be a true FIV diseased animal, but instead a vaccinated one.


J) How to source discount flea, worming and heartworming medications:
The world of veterinary medications can be a costly one for pet owners, particularly when so many of the veterinary medications and procedures rely on veterinary prescription and administration (e.g. vaccines, prescription diets, dentistry etc.). That means a veterinary consultation and the cost of medications and vaccinations. One area where you can stand to save a buck, however, is in the areas of parasite control (heartworm control, worming and flea treatment). Many of the veterinary worming, heartworming and flea preparations have now come off 'prescription scheduling' which means that you don't have to go through a vet to buy them. Also, many of the major worming and defleaing compounds are now off-patent and so a whole new line of cheaper generic products is now available for you to buy.


Places where you can source discount and cheap pet medications:
Supermarkets - supermarkets stock DEC and cheaper all-wormer products. Just make sure that you get your pet weighed (dose accordingly) and check that all of the right worm types (see section G above) are covered. It will say which are covered on the packet.
Pet stores - some of the heartworm, worming, premium diet and flea products are now available in pet stores at less than the veterinary prices.
The internet - this is the best source of cheap anything, bar none. Just make sure that you source your products from a reputable seller (the website of the actual product's company is probably the safest bet) and not some weird site where counterfeit, ineffective or even poisonous drugs might be sold your way. If people can 'fake' toothpaste and perfume, I'm sure they can 'fake' worming pills.


Generic drugs:
The active ingredients used in most worming and heartworming tablets are the same regardless of the product or trade name. For example, there are at least eight heartworm tablets on the Australian market, all of which have DEC as their active ingredient. By selecting a worming or heartworming product based on the active ingredient contained in that product, you should be able to find the least expensive generic product to suit your needs. This will reduce your costs. 200mg/tablet of DEC is 200mg of DEC regardless of the package, pill or capsule it is contained in. The active ingredient is all that counts in choosing a drug to do a certain job.


Compounding pharmacies:
It is possible for compounding pharmacies to mix up batches of drugs (including worming and heartworming drugs) into pills and capsules suitable for animal use. This is particularly helpful when sourcing very small tablets (tiny dosages) for small animals. These pharmacies may be able to make these formulations at inexpensive prices so just shop around.


Cheaper drugs used for different species:
Drug formulations which are normally used to deworm and clear livestock and poultry of parasites are normally a lot cheaper than small animal products - these products have been designed to be cheap because they are being used for commercial purposes. Although they are livestock products, a lot of them have the exact same active ingredients as pet worming products (ivermectin, pyrantel, praziquantel etc.) and so may well be safe to use in domestic pets.


For example, a monthly injection of Ivomec (an ivermectin sheep preparation) at the same dose as that used in Heartgard tablets (micrograms/kg) will protect dogs against heartworm. The cost of Ivomec and a box of needles and syringes is much cheaper than heartworm tablets and a lot of farmers administer it themselves after getting veterinary directions on how to give needles to their pets. Seek veterinary advice before turning to something like this.

Just remember, when considering going to a livestock product for cheaper worming that the use of the product is 'off label'. No guarantee can be given as to your pet's safety because that product has not been tested on domestic pets. Additionally, be careful with your dose calculations. Livestock drugs are often very concentrated because they need to be given to big animals.


I would always seek vet advice when considering using an off-label livestock product on domestic pets.


Important point:
If you are sourcing your pet medications and diets from non-veterinary sites, be aware that these products will not come with any expertise or advice on their use. The advantage of going to a vet for pet drugs is the same advantage as you going to a pharmacy for human drugs. The seller is a qualified, knowledgeable person, expert in the correct use of that drug. It is the experience and added safety that you pay for when you pay the higher prices at a veterinary clinic. A cashier at Walmart or Woolworths or a 'shopping cart' on a website is not going to be able to tell you that you need a heartworm test before you can give a dog DEC safely, whereas a vet will (such information could save your animal's life).
6. Consult room communication and etiquette.
This section contains a couple of handy consult room tips to aid you in keeping your vet happy; your pet safe and getting the very best out of your consult.


A) Tell your vet up-front if your dog is allergic to vaccines or a certain medication:
Vets do note allergies and drug reactions on their client notes pages, however, they do not always have time to hunt back through pages of notes to find a single mention of a vaccine or penicillin reaction. You are the best person to know about your pet, so speak up. One should never rely on computer records.



B) Tell your vet if your dog if pregnant:
Unless a bitch is heavily pregnant, we vets can't always tell! Pregnant dogs require different considerations with regard to vaccinations, worming and flea treatment. Some drugs are dangerous to unborn fetuses so, please, don't forget to let your vet know.



C) Tell your vet if your pet is in any other way unwell, on medications etc.:
As stated before, vets do not always have time to look back through every one of your records. If your pet has been unwell, has any medical condition or is on any medication, remind your vet of the issue when you go into consult. This will ensure that your vet does not inadvertently give your pet any drugs that might interfere with his condition or react with his medication.



D) Tell your vet up-front if your dog can be nasty:
Vets need to be made aware of any previous unfriendly behaviour in order to prevent themselves and you from being injured. Unfriendly behaviour includes any previous growling, snarling, snapping, showing of teeth or biting. In my experience, dogs tend to get nastier with age and experience and a small growl at one visit may well turn into a snap or bite at the next. Many owners claim their dog doesn't bite because he hasn't yet been able to make contact with the vet's arm. I say that any untoward behaviour (mentioned above) is an injury waiting to happen and you need to tell your vet about it. Despite claims to the contrary, we vets don't get paid much so please don't add hospital bills to our list of unnecessary expenditures.


It is not a slight on you, nor is it cruel to your dog, for a vet to use a muzzle. Some dogs are great companions, they just hate vets. Simple as that! A muzzle is simple, safe and easy and keeps everyone safe, including you. Be aware that your vet does have a right to refuse to see an aggressive dog without a muzzle.



E) Once your dog is on the consult table, leave it on the consult table:
It is very helpful to your vet if you can hold your pet on the table top while he or she examines it. Repeatedly letting your pet jump off the table or constantly letting your clingy friend climb into your arms every time the vet let's go of him can be a real nuisance. Remember, a vet can only examine an animal properly when it is on the table in front of him. Time spent chasing a pet around a room or coaxing it from your loving arms is examination time lost ... your time lost.



F) Budget accordingly and don't forget your wallet:
Ugh! Here comes the unpleasant money-grubbing side of the spiel. Vet clinics, like doctor's clinics and pharmacies and all other commercially-run medical enterprises are a business. Vets provide you with a service and you are expected to pay money for that service. Unfortunately, a lot of people have this opinion that, because we vets love animals, we should be willing to treat all animals ... for free. That, somehow, if we veterinarians don't agree to save a pet's life for free, then we don't 'care about the animals, just the money.' Wrong. Pets are a hobby and a lifestyle choice and, like any hobby or lifestyle choice, they cost money. Vet fees are one of these unfortunate expenses. If we charged nothing, pretty soon there would be no vets at all and no-one would receive care. That fact aside, most vets that you will see are lowly employees themselves: wage-earners. They generally do not have the authority to provide freebies or change the pricing.

So, that being said, when you book an appointment to see a vet, expect there to be a charge. Some tips to help you budget for your vet bills and avoid financial embarrassment:
Request an estimate beforehand - as mentioned in section 2 (booking an appointment), you can request an estimate of costs before seeing a vet for vaccination and consultation.
Look up your last vet invoice - if you have been to your vet before, you have probably been given an invoice which contains details of what things cost. This invoice should give you approximate price details of what things cost you last time (consult fees, worming fees, vaccinations etc.). Remember, costs go up yearly so, to be safe, add about 10% onto the invoice prices and that should give a fair estimate.
Shop around - vaccines are easy to do and any clinic, no matter how small, can perform them. Seeking out smaller, cheaper clinics can save you money on the basics (e.g. RSPCA clinics, small suburban clinics etc.)
Don't buy all the added extras - just get the essentials done (vaccination, heartworm, worming) and hold off on extras like flea treatments, fancy diets, dog shampoos and the rest until another time.
Just buy a couple of tablets or spot-ons - a yearly heartworm injection is a large annual cost. If you know that you are short on cash now, you can opt to buy a couple of months of heartworm tablets (a smaller immediate cost) to tide you over until you have the finances available for the yearly injection. The same applies to worming and flea treatments: you don't need to buy a 6-month course if you only have money currently for a 2 or 3 months course. Just come back and get more when that lot runs out. We don't charge an extra consult fee just to dispense worming and flea treatments to you.

Bring the right cash amount, chequebook, cards etc.:
Because we are nice people, we veterinarians rarely ever take your money up front before seeing the animal. We just trust that you will be responsible and honest enough to bring the right cash with you. Unfortunately, however, a consultation and any injections (e.g. vaccines) can't be 'taken back' once given and many dishonest owners know it and use it to their advantage. You'd be amazed at how many owners 'forget their wallets' when the time comes to pay for veterinary services. Please don't do this.


G) A final point on charging and complaints management:
If you are unhappy with your bill or the service you have been given, please tell your vet or the practice manager. Do not smile and be polite to the doctor and then go out into the waiting room and blast the poor receptionist. He or she won't have a clue what you and your pet's doctor have discussed and will usually not have the authority to change the fees anyway. It can really scary and confidence-shattering for young receptionists to be attacked by irate owners, when the problem is not their doing.
7. Our Pet-informed Top Twenty Tips on getting the best from your Vaccination Consultations.


1) Book a double appointment if you have more than one pet or an additional medical issue to check out.


2) Allow yourself plenty of time for the vaccine to work if your animal is to attend a boarding kennel or cattery.


3) Keep puppies and kittens out of contact with veterinary floors, tables and scales.


4) Keep pets on leads or in carriers in the waiting room.


5) Notify your doctor if your pet is pregnant, suffers from drug or vaccine reactions or is unwell or on medications.


6) Notify your vet if your pet is aggressive (even if he or she has not actually bitten anyone yet).


7) It is important that cat vaccines are given in specific sites (see text), in case of feline vaccine associated sarcomas.


8) Don't get a yearly heartworm injection until your pet is adult weight and size.


9) If your pet has not had heartworm prevention in 6 months, he or she needs a heartworm test.


10) Don't buy a full packet of heartworm, flea or worming tablets or spot-ons until your pet has attained full size. Just buy short courses and weigh your pet and adjust your medication doses as your pet grows.


11) Be aware of DEC (diethylcarbamazine citrate) heartwormers - they have specific safety and administration instructions.


12) Always dose animals with wormers and flea medicines according to an accurate weight. You are better to overdose than under dose.


13) Always worm and flea-treat all animals in a household.


14) Check your parasite treatment packets. To cover all parasites, your antiparasitic drug or combination of drugs must treat: Dirofilaria immitis (heart worm), Ancylostoma (hook worm), Uncinaria (hookworm), Toxocara (round worm), Toxascaris (also a roundworm), Trichuris (whipworm), Taenia (tape worm), Dipylidium (flea tapeworm), Echinococcus (hydatid tapeworm) and fleas.


15) Beware that some parasite products can be toxic to cats and certain breeds of dogs. Also be aware of the age limits of certain products, when using treatment on young pups and kittens.


16) If your pet tends to get carsick, don't worm him until you get home.


17) You can split a larger spot-on between several smaller pets to reduce costs. You should not split large tablets between smaller pets.


18) Consider sourcing non-prescription medications (flea treatments, worming pills) from cheaper sources such as generics-manufacturers, compounding pharmacies, supermarkets, pet shops, internet sites.


19) All pets should be microchipped.


20) Always microchip FIV-vaccinated cats.


To go from this Consultation and Vaccination page to the homepage, click here.





References:


1) Immunotherapy. Wroth O, editor: MIMS IVS Annual, St Leonards, 2001, Havas MediMedia.

2) Immunotherapy. Wroth O, editor: MIMS IVS Annual, St Leonards, 2004, Havas MediMedia.

3) Parasiticides. Wroth O, editor: MIMS IVS Annual, St Leonards, 2001, Havas MediMedia.

4) Parasiticides. Wroth O, editor: MIMS IVS Annual, St Leonards, 2004, Havas MediMedia.







Pet Informed is not in any way affiliated with any of the companies whose products appear in images or information contained within this article. The examples and images, taken by Pet Informed, are only used in order to illustrate certain points being made in the article. Additionally, the absence of a product in the article should in no way be taken as any indication of our opinion on that product, positive or negative.

Copyright March 24, 2008, www.pet-informed-veterinary-advice-online.com.
All rights reserved, protected under Australian copyright. No images or graphics on this Pet Informed website may be used without written permission of their owner, Dr. O'Meara.


Proheart SR12, Duramune, Protech and Fort Dodge are registered trademarks of Wyeth and its affiliates.
Nobivac is a registered trademark of Intervet.
Advantage Duo, Advantage for Dogs and Cats are registered trademarks of Bayer Australia.
Decaflea is a registered trademark of Dermcare-Vet Pty Ltd.
Dimmitrol, Fido's Dec-Tab are registered trademarks of Mavlab Pty Ltd.
Dirozine, Filaribits are registered trademarks of Jurox Pty Ltd.
Exelpet is a registered trademark of Exelpet Products.
Filar Heartworm Tablets is a registered trademark of David Veterinary Laboratories.
Heartgard, Ivomec, Frontline are registered trademarks of Merial Australia Pty Ltd.
Worm Ban is a registered trademark of Troy Laboratories Pty Ltd.
Revolution is a registered trademark of Pfizer Animal Health.
Sentinel, Capstar, Program are registered trademarks of Novartis Animal Health Australasia Pty Ltd.
Please note: the aforementioned puppy vaccination schedules, adult dog vaccination guidelines, pregnancy vaccination guidelines and information on the new immunization schedules now being made available are general recommendations only. The aforementioned worming schedules, flea prevention guidelines, heartworm prevention schedules and information on microchipping are general recommendations only. The information provided is based on published information and recommendations made available from the vaccine and drug companies themselves; relevant veterinary literature and publications and my own experience as a practicing veterinarian. The advice given is appropriate to the vast majority of pet owners however, given the large range of vaccine and parasiticide types and protocols now available, owners should take it upon themselves to ask their own veterinarian what vaccination and parasiticide schedules s/he is using so as to be certain what to do. Owners with specific circumstances (high parvovirus contamination in environment, specific dog breeds, pregnant bitches, young litters, multiple cat or dog households, animals on immune-suppressant medicines, animals with heartworm, animals with drug reaction histories etc. etc.) should ask their vet what the safest and most effective protocol is for their situation.




Any dose rates mentioned on these pages should be confirmed by a vet. Dosing rates for common drugs are being changed and updated all the time (e.g. as new research comes in and as drug formulations change) and information here may not remain current for long. What's more, although we try very hard to maintain the accuracy of our information, typos and oversights do occur. Please check with your vet before dosing any pet any medication or drug.